Deciding where to deploy an ERP solution like Microsoft Dynamics 365 Business Central can be difficult. Business Central was originally released in April 2018 as a SaaS only solution, however in October 2018, Business Central became the official successor to NAV as Microsoft released Business Central (on-premises), supporting on-premise and cloud deployments. Over the last few years, Microsoft has advocated a cloud-first strategy alongside full continued support for on-premises deployments.
With the October release, #MSDynNAV transitions to #MSDyn365BC , supporting both on-premises and hybrid deployments. To find out more, see the Microsoft Business Applications Release notes👉 https://t.co/g3MRYFSaPo #NAV2018 #NAVUG pic.twitter.com/o8DL7W4tvT

– 鲸鱼电竞2.0 (@mercuriusit) 10 August 2018
Choosing the best deployment method for your business is an important decision that could affect the overall success of your project. For example, if you opt for cloud deployment without sufficient bandwidth to support it, your system will run very slowly, making it near impossible to secure end-user buy-in.
The good news is that Microsoft solutions are built to be highly versatile and there is no one-size-fits-all best way to deploy them. The deployment option you choose will depend on your business, resources and requirements. When evaluating deployment options, consider:
Are you already hosting other IT systems in the cloud?
Does your business already have dedicated servers and IT infrastructure in place?
Does your business have the expertise and resources in-house to maintain on-premises servers?
Will users need to access the application when away from the office?
Can you afford a large initial investment or are monthly payments for hosting more sustainable?
How are your business needs and resources likely to change in the future?
On-Premises
Traditionally, all ERP systems were deployed on-premises or, more recently, in the private cloud . Hosting on-premises requires your own servers and infrastructure, whether this is in-house or managed by an IT partner. If your business doesn't have existing hardware, then an upfront cost will be required to cover servers, storage, air-conditioning, power, maintenance and administration. When deploying Microsoft Dynamics 365 Business Central on-premises, licenses can be bought perpetually, meaning you own them outright, or through a subscription model which is priced per user/month. Ultimately, deploying a Microsoft Dynamics solution on-premises gives you more freedom and control but also requires a high level of IT expertise to keep the system well maintained and secure at all times.
Cloud
Deploying Microsoft Dynamics 365 Business Central (on-premise) in the public cloud is becoming increasingly popular with its flexibility and lower up-front cost. Cloud deployment groups the overhead expenses of an on-premises solution into one monthly fee paid to your cloud provider and you don't have to think about updates or security. Both perpetual and subscription Business Central licenses can be deployed in the cloud, making it an attractive option for a wide range of businesses. Perhaps most importantly, deploying Business Central in the cloud means you can log in to your system from any device, anywhere in the world as long, as you have an internet connection. This removes the need for VPN access to your in-house servers and is highly convenient for businesses with employees working on-site or remotely. Considering how technology will continue to evolve in the future, cloud platforms such as Microsoft Azure are worth seriously considering.
Software as a Service (SaaS)
Software as a Service, or SaaS, has become an increasingly popular software distribution method over the last few years. It operates within the cloud and its main, fundamental difference between regular cloud deployments is that you are buying and license and hosting under one monthly price, as opposed to buying your licenses and cloud hosting separately. Microsoft Dynamics 365 Business Central was originally released in April 2018 to provide full NAV functionality in the cloud as a SaaS solution. Although Business Central (on-premises) was released in October, the SaaS version is still available for those businesses who want to deploy the solution this way. Buying Business Central as a SaaS solution puts all your costs for hosting and licenses on one per user/month rate, so everything is taken care of. The SaaS solution is a little less flexible and customisable than the on-premise version, but you can still make use of extensions from Microsoft AppSource to get that bit of extra functionality if you require it.
Hybrid
Hybrid deployment is a blend of both on-premises and cloud hosting. A hybrid approach gives you the flexibility and ease-of-access of the cloud with the security of an on-premises server. Where businesses have strict regulations regarding how and where data is stored, this deployment method can be very beneficial. While hybrid deployment can be seen as the best of both worlds, it is important to note that it does require the same level of infrastructure, maintenance and IT expertise as an on-premises solution.
If you are using or are planning to upgrade to Dynamics 365 Business Central on-premises, you are able to essentially create a hybrid deployment to connect to Microsoft's intelligent cloud . Your data and application will be stored locally on your servers and you will also have access to an instance of your data securely replicated in the cloud, enabling you to leverage additional cloud applications such as Power BI , PowerApps and Flow . On top of this, you can get access to Machine Learning and Artifical Intelligence (AI) functionality to provide actionable insights, improve productivity and help your business run even more effectively.
If you're still a bit confused about how Microsoft Dynamics 365 Business Central can be deployed and licensed, this infographic should make it a little easier for you: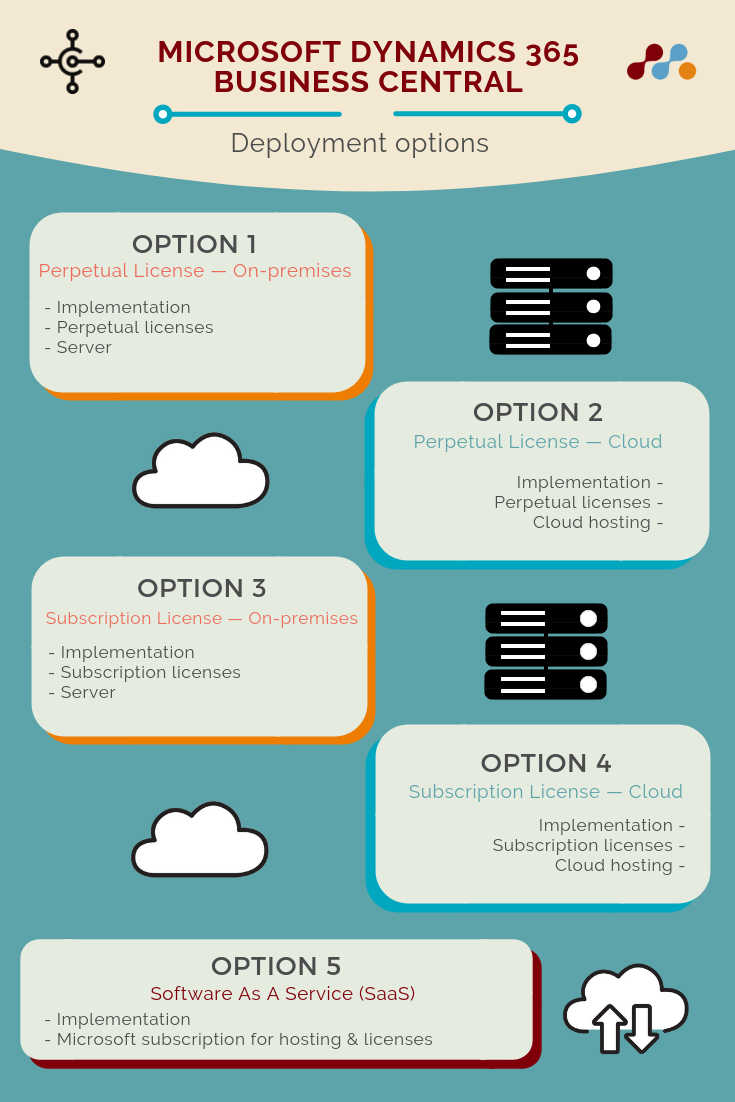 We hope this blog post has given some insight into the different deployment options available for Microsoft Dynamics 365 Business Central, as well as showing how they can be licensed with the perpetual/subscription models. If you are an existing Dynamics customer looking to upgrade, please visit our other blog posts for more information on upgrading to Business Central. If you aren't a current Dynamics customer, it is also worth a read! We cover license costs and various other bits of information related to Business Central.
If you're still unsure about which deployment option is best for your business, or if you're interested in deploying an ERP solution such as Microsoft Dynamics 365 Business Central, please get in touch today. Customers have seen their upgrade bills go down by over 60% when using our Fixed Price Upgrade methodology, which has now been extended to include NAV customers upgrading to Business Central!