As part of Microsoft's digital transformation, they have updated their Dynamics 365 Business Central support policy in order to stay current and better align with their products and services. This blog post will guide you through what the new Modern Lifecycle Policy is and how it differentiates from the previous one.
What is the old lifecycle policy?
Dynamics 365 Business Central versions 14x (April 2019) and before followed the Fixed Lifecycle Policy – where the policy involved 10 years of support, a minimum of 5 years 'Mainstream Support' followed by an additional 5 years of 'Extended Support'. This support policy worked well for previous deployments of NAV and Business Central, as solutions were often purchased perpetually and organisations remained using the same version for multiple years. Now with Microsoft's big push on digital transformation and the extensive rise of cloud deployments, updates are available and can be applied with ease, meaning this new Modern Lifecycle Policy aligns more with the solution.
What is the new Modern Lifecycle Policy?
The Modern Lifecycle Policy covers products and services that are serviced and supported continuously. Under this policy, the product or service remains in support if the following criteria are met:
Customers must stay current as per the servicing and system requirements published for the product or service.
Customers must be licensed to use the product or service.
Microsoft must currently offer support for the product or service.
Changes & updates for Business Central occur every 6 months, in April and October, with each update the number version of Business Central will go up (April 2019 – Version 14x, October 2019 – Version 15x, April 2020 – Version 16x). There is a 6-month upgrade period and then 12 months after of support for that version. The Modern Lifecycle Policy encourages you to always remain up-to-date with your solution as it offers 'continuous support and servicing, including bug fixes, new features, and applicable regulatory compliance updates.'
As the changes to Business Central are quite frequent, it requires alertness from customers to the forthcoming modifications to the solution. As part of the policy Microsoft will provide a minimum 30 days notification when customers are required to take action in order to avoid degradation to the normal use of Business Central – however as your Microsoft Dynamics partner, we're here to help and guide you through any new changes and get updates applied in a timely manner.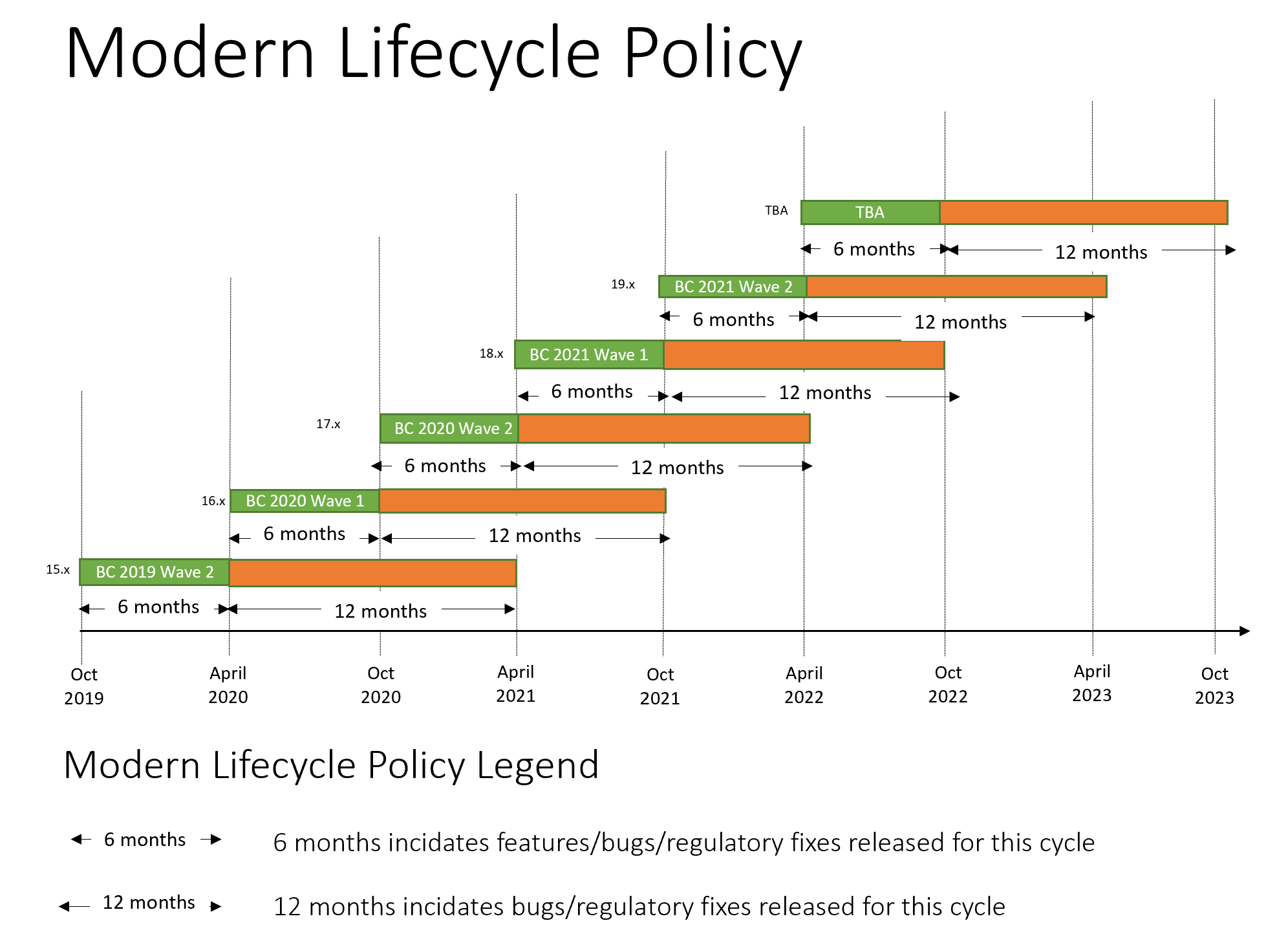 (This image shows each release of Business Central up to version 19x in October 2021, along with the 6-month upgrade period and 12 months support that is now in place with the Modern Lifecycle Policy.)
Does this affect On-Premises deployments of Business Central?
For those who have Dynamics 365 Business Central deployed on-premises, if you've updated to version 15x, released in October 2019 then you will be covered by the Modern Lifecycle Policy. Any versions before still follow the Fixed Lifecycle Policy, similarly with Cloud & SaaS deployments of Business Central. The only difference with On-premises deployments is that you (or your Dynamics partner) is in control of installing updates to the environment, as it cannot be automatically applied like in other deployments. 
When does this come into effect?
If you have updated your Business Central tenant to release wave 2 in October 2019, version 15x for either cloud or on-premises deployments, you will be using the new Modern Lifecycle Policy.
Business Central version 14x and earlier are still covered by the Fixed Lifecycle Policy, as mentioned earlier.
What do I need to do as a Business Central user?
Just ensure you update your Business Central solution to the latest versions in April and October or talk to your partner to get your solution updated.
If you're interested in deploying Dynamics 365 Business Central to your business, or alternatively if you'd like any additional support from us at 鲸鱼电竞2.0 for Business Central – we're more than happy to help. With us, you can enjoy Pay-As-You-Go support from £55/hour.
EMAIL – [email protected]
PHONE – 01908 508080